Across the world, people are ordering dinner to the Eiffel Tower, breakfast on Bondi Beach, lunch alongside the Tokyo Imperial Palace and picnics to Emmarentia Dam. The explosion in app-based food ordering is still relatively new and, although many people feel guilty about ordering in, it's a trend that is not going away any time soon.
South Africa's Naspers was quick to recognise this. The media giant caught the attention of the market with its unexpected sale in March 2019 of 2% of its holdings in Chinese Internet giant, Tencent, raising R115 billion in the process. This war chest will be used to shore up the balance sheet and invest in its e-commerce businesses, specifically global classifieds, online food delivery and FinTech (This is as management takes concrete steps to boost the profitability of its e-commerce business and narrow the discount between the market value of Naspers and its stake in Tencent). Naspers has seized on food delivery as the latest online platform with high growth potential across the globe. Although Naspers has been invested in the classified space for some years and is achieving a measure of scale in this area, it has seized on food delivery as the latest online platform with high growth potential across the globe.
Worldwide in 2016, the market for food delivery stood at €83 billion, or 1% of the total food market and 4% of food sold through restaurants and fast-food chains, according to a research report from McKinsey.
In 2017, the company brought its stake in Delivery Hero up to 23.6%, investing a total of US$1.2 billion and making Naspers the largest shareholder in the fast-growing online ordering and delivery business. Naspers also has stakes in iFood in Brazil, Swiggy of India, Delivery Club of Russia – through its stake in Mail.Ru – and Mr D Food in South Africa through its stake in Takealot. Collectively its portfolio of food delivery companies spans 39 countries.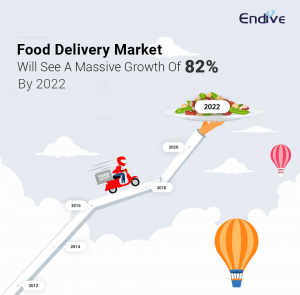 Although South Africa might not have the economic growth of India or the economic wealth of Europe, the online market still shows considerable potential. The South African business-to-consumer market is in the early stages, with an Internet penetration of only 53% (mobile is higher) and online retail penetration of under 1%. This is according to a recent annual report of Naspers.
There are more than 14 online food and mobile order and app delivery services in South Africa. These include Mr D Food, UberEats and OrderIn, which deliver in the larger metros, to niche service providers like Monks Chinese Food, which delivers in Cape Town's CBD and nearby suburbs. The online food delivery space is an extremely competitive market. From the market-share information available, Mr D Food and Uber Eats are by far the largest players in the South African market. However, Mr D Food has the broadest geographic coverage of any online food delivery business, delivering to over 1,900 suburbs around South Africa, including most major cities and towns. With over 2,000 restaurants on its platform, Mr D has more than doubled in the past year in terms of the number of orders processed per month and restaurants on the platform. The customer base has more than doubled in the last nine months and is now standing at over 500,000 registered users.
South Africans have truly embraced online food delivery; they are all about finding easy and reliable ways to discover the food they love at the push of a button.
The South African Platform-to-Consumer Delivery Market:
The Platform-to-Consumer Delivery market segment focuses on online delivery services that provide customers with meals from partner restaurants that do not necessarily have to offer food delivery themselves. In this case, the platform (e.g. Deliveroo) handles the delivery process. Not included are orders by telephone, unpacked food for immediate consumption as well as non-processed or non-prepared food (e.g. HelloFresh).
In South Africa, revenue in the Platform-to-Consumer Delivery segment amounts to US$366 million in 2019.
Revenue is expected to show an annual growth rate (CAGR 2019-2023) of 15.7%, resulting in a market volume of US$655 million by 2023.
In global comparison, most revenue is generated in China (US$28 billion in 2019).
User penetration is 9.2% in 2019 and is expected to hit 13.7% by 2023.