Do you have what it takes to be a successful entrepreneur? Entrepreneurship. Entrepreneur. Entrepreneurial. Unknown words to some. Dreams of becoming one to others. With 2016 upon us and many 'would be' entrepreneurs contemplating entering the unknown world of entrepreneurship, it is perhaps a good idea to take a different look at What Makes An Entrepreneur. Sure enough, you can review the numerous checklists out there that will 'tell' you whether you have what it takes to be an entrepreneur. Perhaps you just want to jump in without any planning and against the advice of friends, colleagues and family. Maybe you plan years in advance. Whatever route you take or the personal approach you have (prefer), some core characteristics are present in most entrepreneurs.
Read more: The South African Entrepreneurial Safari.
Negativity all around us:
Open any newspaper, watch the news and listen to the radio and one will get the feeling that the South African economy is at a vital crossroad. Unemployment, as cited in an article by the Centre for Development and Enterprise (CDE: 2013), is currently estimated to have reached 34 per cent. This paints a dire picture and it can be argued that the South African labour market is in a crisis and possibly at the heart of other challenges currently being experienced in the country, including high levels of poverty, social unrest, crime, and corruption, to name but a few. Apart from the labour market risks, businesses and consumers (private citizens) alike are faced with low investment rates, an ever-expanding budget deficit as well as a current account deficit, which can be partly attributed to the country's low rates of savings. The vulnerability of the local currency (Rand) and its rapid depreciation especially over the past 12 months has resulted in an exchange rate that has become progressively vulnerable. The government sees entrepreneurship as a vital strategy to combat unemployment. But, being unemployed doesn't mean you can just become an entrepreneur overnight. Apart from barriers such as lack of ideas, funding, etc., probably the most vital question is to really ask whether you have what it takes to become an entrepreneur.
A completely different look at 'What Makes an Entrepreneur':
Not all entrepreneurs are created from the same blueprint. They come from different geographic locations, upbringings, income brackets and social classes, as well as education levels. There are thousands of articles listing, to some degree or another, the top qualities that make a successful entrepreneur… Determination, risk-taker, confidence, passion, etc., etc. Let us rather take a different look at "What Makes An Entrepreneur" by viewing the following graphical representation. Starting from the top of the entrepreneur's head to the bottom of his feet, each body part represents a characteristic of most entrepreneurs.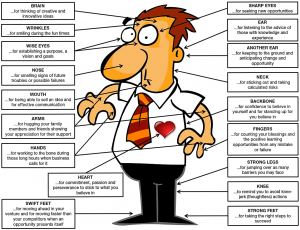 My best advice to entrepreneurs is this: Forget about making mistakes, just do it. – Ajaero Tony Martins